Historic and Affordable Championship Golf

Normandie Golf Club, the oldest public golf course West of the Mississippi, is an absolute delight to play. Regardless of your skill level, you can enjoy the game on a course that exemplifies classical design at a price you can afford. Opened in 1901, Normandie Golf Club is as much appreciated by today's golfers as it was a century ago. With bloodlines that extend directly to golf's home in St. Andrews, Scotland, the majestic design carries with it a tradition in shot making and execution that tests your ability and demands well executed strategy in order to score.
Robert Foulis, of the famed Foulis family of brothers, came to this country from his native Scotland just before the turn of the century in order to take on the mighty task of transforming tracts of the rough American landscape into golf courses. During 
"Normandie Golf Club gets better everyday.
We are committed to making the old gem special again."
Jay Randolph Jr., Golf Ambassador
his formative years in Scotland, Robert, along with his brothers Jim and Dave, learned the game and their ultimate trade from the legendary Old Tom Morris, and based their design principles upon his firm teachings. Normandie Golf Course was one of Robert's early designs, and perhaps his finest.
With greens and tees located on the property's highest locations (remember this was before the advent of today's earth moving equipment and drainage advances), the routing followed a hill to valley to hill pattern. This is especially noticeable on Normandie's outstanding par 3s where you hit from an elevated tee across a valley to an elevated green. Set on rolling hills, Normandie's terrain was perfect for creating a course that offered high shot values as well as being very entertaining to play. Noted early on for being a "players' course", most of St. Louis's top amateurs joined Normandie soon after its opening for both the competitive atmosphere and the challenging course on which to play.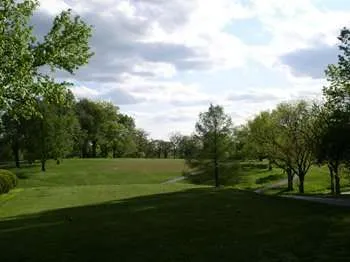 Playing just over 6,500 yards from the back tees and to a par of 71, Normandie is as much a challenge today as it was on the day it opened. The Bermuda fairways are always in top condition, and the greens are well manicured. Designed well before the advent of power carts, the layout is a walker's breeze, as tees are located conveniently adjacent to the preceding green.
Starting out with a bang, the 1st hole at Normandie, a 446 yard par 4, demands plenty and sacrifices nothing. As the number 1 handicap hole, the tree-lined 1st claims many a victim, but rewards fine shot making and well executed course strategy. The early bird indeed gets the worm at
Normandie, so arrive a few minutes early in order to warm up for the daunting and memorable 1st. The 7th, 8th, and 9th holes typify the Foulis layout, as the play is from an elevated tee down through a valley and back up to a perched green. The 7th hole is one of the better par 5s you'll ever play. This majestic hole that gently doglegs to the right requires first a well struck drive to the bottom of the first valley. Two more clean shots will leave you with a birdie try on the devilish green. A miss on the approach will leave a difficult path to par.
The back nine begins with a difficult uphill tee shot on the 420 yard, par 4 10th.Once on the fairway, you are left with a downhill approach with a medium to long iron to a green protected by a creek both front and to the right. A par 4 on the 10th, much like the 1st, is both well deserved and richly rewarded. Keep pressing on through the difficult 11th, and you are rewarded with a majestic view of the beautiful landscape from the tee at the par 3 12th hole.A downhill par 3, the 12th demands pinpoint accuracy and distance control off the tee as any shot landing short will roll back off the putting surface and leave a difficult recovery for par.
As with most classic designs, Normandie tests your game on even the most benign holes. The 14th, a tame looking, straight-away par 4 measuring 411 yards, demands your attention as the elusive two-tiered green and deceptive hole locations guard par with an aggressive zeal. The contours in this slick green make it very difficult to read, and a three putt is more the norm than the exception.
The 18th is worth paying a separate green fee to play. Noted as one of St. Louis's most demanding short holes, the 250 yard par 3 is tragedy waiting to happen. Should you be blessed with the skill required to strike a long iron or utility club onto the putting surface, or be just plain lucky, a par on the 18th will not only sink into your memory banks for safe keeping, but also deep into the wallet of your competitor. Many a match are won or lost on the 18th, making it one of the finest closing holes on any golf course you'll ever have the chance to play.
With its classic routing, cunning strategy, immaculate conditioning, and demanding design, Normandie is not only a great golf course, but a fun and affordable place for golfers of all abilities. Come and enjoy a round, or choose from one of the discounted membership options, and you'll soon realize that Normandie is exceptional golf at an extraordinary value.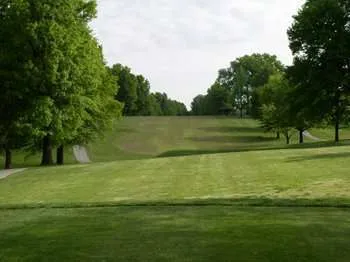 Ready to play the oldest public golf course West of the Mississippi?
Call (314) 862-4884 or
BOOK ONLINE
Address
7605 St. Charles Rock Rd.
St. Louis, MO 63133
Contact Us
Phone: 314-862-4884